Recent Posts
Recent Comments
Archives
Categories
Meta
Sales activity in the Coral Gables single-family real estate market has become extremely lopsided.  Below $450,000, there is healthy activity, with a normal 5 to 7 months' supply of homes on the market.  (Not coincidentally, the conforming loan limit for the region is $423,750.)
From $450,000 up, sales quickly diminish.  The $450,000 to $699,000 price range shows about 20 to 30 months' supply of homes on the market.  And for the highest-priced homes, the chance of finding a buyer is about as good as the chance of winning the Trifecta at Gulfstream.  The inventory of houses over $1.5 million is running at about 70 months' supply, although sales recently flirted with zero.  Seventy months is stratospheric; infinite supply is more than the collapse-addled mind can handle.
Supply at the high end normally runs above supply at the low end, but not like this.
What to make of this dichotomy, this firmness at the low end and distemper at the high end?  An optimist would say that robust sales at the low end will filter up to the high end eventually.  But the great force of deleveraging will probably work its way into the high end faster than low-end buyers can work their way up to waterfront living.  Anyone who has not yet read and thought hard about Hyman Minsky and the Plankton Theory is well advised to do so, if they still have a shirt left to lose.
Perhaps the U.S. Treasury will implement a Mansion Asset Liquidity Program and take out all the sellers at their asking prices.  Absent such intervention, market forces should prevail.  The harder they fall, indeed.
Charts and more charts: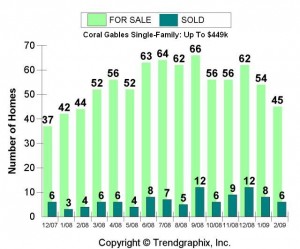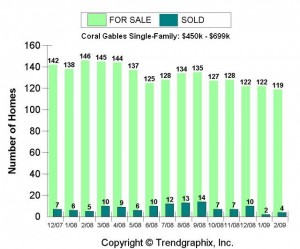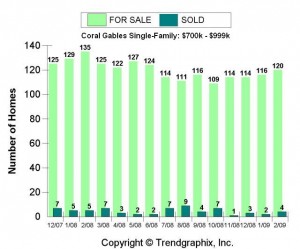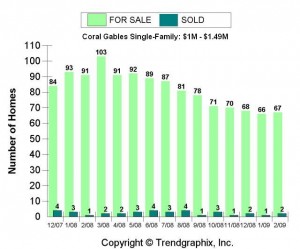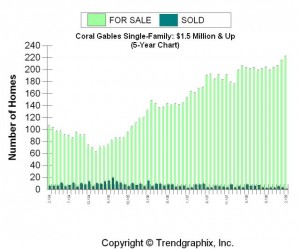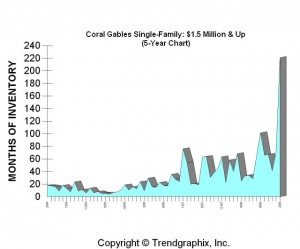 Both comments and pings are currently closed.
Thomas K. Landry Call Tom: 305-448-8728 tklandry@landryrealty.com
Categories
Archived Articles