Recent Posts
Recent Comments
Archives
Categories
Meta
National housing starts data were released on Wednesday and it wasn't pretty.  Economists expected 600,000 starts, but the figure turned out to be 529,000.
That's a big miss by any measure, but it's especially significant because it created doubt about the perceived housing recovery.  At best, the homebuilding sector is bouncing along the bottom.  At worst, it's still in a downtrend.  Time will tell.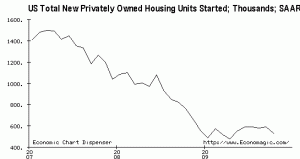 In any event, the long-term chart suggests we can't go too much lower (shaded bars indicate economic recessions):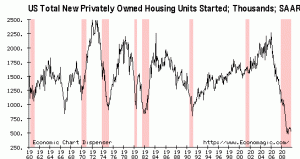 These are national figures and do not dictate the direction of the real estate market in Coral Gables or Miami.  But it would be foolhardy to think that South Florida — poster-child for the real estate boom and bust — will not track the national data in this cycle.
Be careful out there.  Ignorance is risk.

Both comments and pings are currently closed.
Thomas K. Landry Call Tom: 305-448-8728 tklandry@landryrealty.com
Categories
Archived Articles