Recent Posts
Recent Comments
Archives
Categories
Meta
Mortgage rates have hit a new low of 4.71%, according to federal mortgage agency Freddie Mac.  It's the lowest rate in the history of Freddie Mac's datakeeping, which goes back to 1971.  The next-lowest rate environment was in the earlier part of this decade, when rates hit a low of 5.23% in June 2003.  Maybe other low-rate environments like the 1950s could compare.  In any case, rates are remarkably low.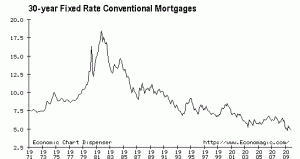 Does that mean you should load up on real estate here in Miami and Coral Gables?  Current rates present an opportunity, but only for the right buyers:
If you're buying a home in an area of Miami or Coral Gables where real estate prices have corrected enough to make valuations reasonable, or you're otherwise simply getting a bargain, then it makes sense to buy.  On the other hand, if you're paying too much for a home in a neighborhood in Miami or Coral Gables where real estate prices are still too high relative to rentals, incomes and the other factors that must be considered, low rates won't save you.  It doesn't make sense to buy a depreciating asset with borrowed money, no matter how low the interest rate is.
If you intend to live in Miami or Coral Gables for a good long while, you can ride out the near-term illiquidity (i.e., inability to sell) that could accompany rising rates.  On the other hand, if you might not stay in your home for a long time, buying at the current low rates could prove troublesome, even devastating.  If a property in Coral Gables or Miami is affordable and attractive to you right now because rates are so low, how affordable and attractive will that property be to the buyer you will need to find in the future, if rates go up?  Indeed, we just saw that happen to people who bought at those fabulous low rates from 2003 to 2006.  Haven't we learned anything?
Don't get me wrong.  There are some great opportunities in Miami real estate these days, and maybe a few in Coral Gables too.  But be sure you fit the right profile.
And be flexible as market conditions change.  If an inflationary scenario unfolds, wages, prices and rates can all rise simultaneously — as happened in the 1970s.  Hard to see incomes rising sharply in Miami or Coral Gables right now, but if and when that happens, buying real estate will become a more urgent matter.

Both comments and pings are currently closed.
Thomas K. Landry Call Tom: 305-448-8728 tklandry@landryrealty.com
Categories
Archived Articles