Recent Posts
Recent Comments
Archives
Categories
Meta
It's been a while since the last post charting the progress of the OFHEO House Price Index.  So long, in fact, that the Office of Federal Housing Enterprise Oversight (OFHEO) was subsumed within the Federal Housing Finance Agency (FHFA).  It seems that whole "oversight" thing didn't work out too well there at OFHEO, what with the the entities overseen (FNMA, FMAC etc.) going belly-up after OFHEO assured they wouldn't.
Anyway, FHFA keeps the data now.  The data represent repeat transactions of the same homes, but only those purchased with conforming loans (i.e., loans that government-sponsored entities like Fannie Mae were able to buy because the loan amount was below a certain maximum).  This differs from the Case-Shiller price index, which tracks same-home resales but is not limited to conforming loans.
Here's the chart for single-family home prices in the Miami metro area: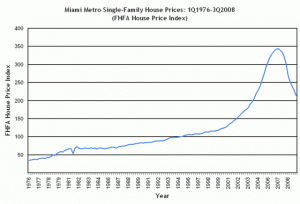 And here's the chart for single-family home prices in the New York metro area:
These charts of homes prices in Miami and New York show that prices would still need to fall a great deal to reach the long-term trend line.  That should not come as a surprise, considering that a real downturn in real-estate prices typically takes about four years from the time prices start declining to the time prices hit bottom.  But it's still transfixing to see that property values in Miami and New York remain so elevated.  Very few people are aware of, or psychologically prepared for, the possibility of another major leg down.  And that's just to reach the trendline.  Sometimes prices overshoot to the downside when an asset bubble reverts to the mean.

Both comments and pings are currently closed.
Thomas K. Landry Call Tom: 305-448-8728 tklandry@landryrealty.com
Categories
Archived Articles