Recent Posts
Recent Comments
Archives
Categories
Meta
Sales of new homes (not existing homes) fell to a seasonally adjusted annual rate of 342,000 in December 2009.
Sales hit a low of 329,000 in January 2009, then rebounded to 419,000 in July 2009, and were still at 408,000 as recently as October.  Now they're reapproaching the old low.
Here's the big picture, from 1963 to 2009: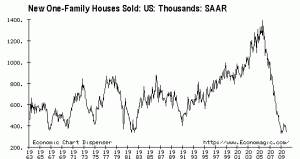 The U.S. Census Bureau, keeper of the data, defines a new home sale as a deposit taken or a sales agreement signed.

Both comments and pings are currently closed.
Thomas K. Landry Call Tom: 305-448-8728 tklandry@landryrealty.com
Categories
Archived Articles