Recent Posts
Recent Comments
Archives
Categories
Meta
Yesterday, on the cusp of the 2010 baseball season, the University of Miami Hurricanes baseball team hosted an afternoon of baseball fun for everyone.  The day included a home-run derby, face painting, pony rides, T-ball games and other fun stuff, and culminated in an alumni baseball game starring some of the team's best former players (including major-leaguers).  Admission was free.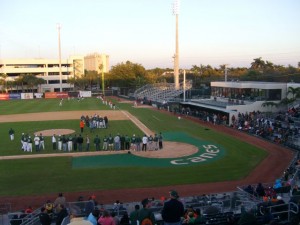 The highlight may have been current team leader Yasmani Grandal's performance in the home-run derby, swatting a dozen out of the park and trouncing alumnus Ryan Braun, who plays left field for the Milwaukee Brewers.  One of Grandal's shots soared over the right-field wall and hit the Ponce de Leon parking garage.  He's surely destined for the majors.
The UM baseball team will start their 2010 season at home in Coral Gables with a three-night series against the Scarlet Knights of Rutgers University.  The games are at 7:00 p.m. Friday the 19th through Sunday the 21st.  General admission tickets are affordable ($10 adults, $9 kids).  The Hurricanes won the ACC championship in 2008 and remain one of the best college baseball teams in the country.
UM was founded as an integral part of the original plan for Coral Gables back in the 1920s, and can be a source of great enrichment for area residents.  If you're thinking of buying or renting real estate in Coral Gables or Miami, don't forget to take into account the many benefits of making your home near a major university.

Both comments and pings are currently closed.
Thomas K. Landry Call Tom: 305-448-8728 tklandry@landryrealty.com
Categories
Archived Articles