Recent Posts
Recent Comments
Archives
Categories
Meta
Plenty of single-family homes in Coral Gables have been lost to foreclosure or short sale, but few have been substantial in size or quality.  And although a fair number of larger homes have been the subject of a foreclosure filing, that is a far cry from proceeding all the way to repossession and bank-owned sale.  Despite the disastrous real-estate market of the last few years, only about 20 REO (bank-owned) sales in Coral Gables have involved properties bigger than a breadbasket.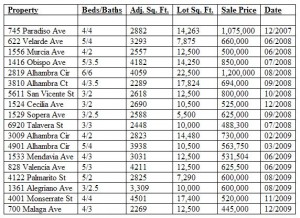 Here are a couple of case studies:
828 Valencia Avenue sold for $625,500 in January 2010, after selling for $1,225,000 in April 2006.  At 4,211 adjusted square feet, the 2010 sale represents a mere $148/sf.  But you get what you pay for.  Significant parts of that consisted of what appeared to be outdoor patio and brick porch space that had been enclosed.  At least one room seemed to have significant mold growth.  And most buyers would generally have seen a need for total renovation.  The property is located just off De Soto Avenue near the Coral Gables landmark Venetian Pool.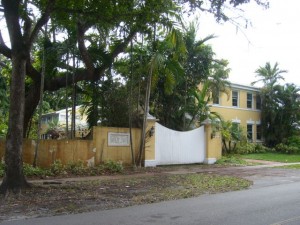 4901 Alhambra Circle sold for $563,750 in March 2009, after selling for $2,100,000 (courtesy of Countrywide Home Loans) in May 2006.  At 3,938 adjusted square feet, the 2009 sale represents $143/sf.  Again, the price was commensurate with the condition of the house, which had a leaky roof, interior water damage (which always raises the possibility of mold growth), and the usual Miami-foreclosure green pool.  But this property has already proved itself:  The buyer in foreclosure fixed it up and flipped it for $1,030,000 in a transaction that closed earlier this month.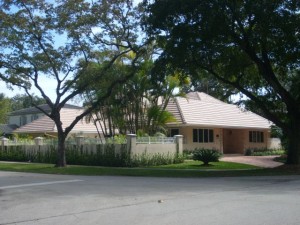 Both comments and pings are currently closed.
Thomas K. Landry Call Tom: 305-448-8728 tklandry@landryrealty.com
Categories
Archived Articles