Recent Posts
Recent Comments
Archives
Categories
Meta
Thanks in significant part to a decline in the cost of housing, the core CPI inflation gauge for January 2010 posted the first month-to-month decline since 1982.  You might want to keep that little tidbit in mind the next time someone selling real estate in Miami or Coral Gables tries to scare you into thinking you'll miss the boat if you don't buy now.
Real estate prices in Miami and Coral Gables are unlikely to mount a serious comeback in the context of a deflationary economy.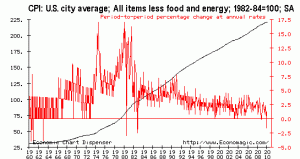 The Bureau of Labor Statistics bases the housing component of core CPI on the cost of renting, not buying.  (Data wonks requiring explanation can get it at the BLS website.)
Sellers might like to think that prices can rise for home purchases while falling for home rentals.  That kind of wishful thinking hasn't worked out too well lately.  During the boom, the cost of buying real estate in Miami and Coral Gables deviated way beyond any normal relation to the cost of renting.  That deviation has barely begun to resolve itself, and falling rents would only exacerbate the imbalance, pulling home values further downward.
Granted, the government's methodology for calculating inflation has changed over the years, with a systematic bias toward reducing the stated inflation rate compared to previous methodologies.  (See www.shadowstats.com.)  But by any measure, core inflation is hitting a new low despite the firehose of money that the government and Federal Reserve have aimed at the economy.
Score one for the deflation camp.

Both comments and pings are currently closed.
Thomas K. Landry Call Tom: 305-448-8728 tklandry@landryrealty.com
Categories
Archived Articles