Recent Posts
Recent Comments
Archives
Categories
Meta
The Mediterranean-style home at 8345 Ponce de Leon Road, in the Ponce/Davis neighborhood of Miami (adjacent Coral Gables), sold in December 2009 for $2,764,500.  That's 19.9% below the previous sale price of $3,450,000 in December 2005.
Built in 2004, 8345 Ponce de Leon is a 6BR, 7BA, 8212 sf luxury home on a 43,560 sf (1 acre) lot.  The $2.7645M sale price works out to $337/sf.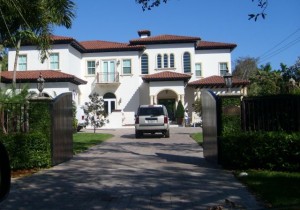 Both comments and pings are currently closed.
Thomas K. Landry Call Tom: 305-448-8728 tklandry@landryrealty.com
Categories
Archived Articles