Recent Posts
Recent Comments
Archives
Categories
Meta
The Census Bureau recently reported that housing starts in January rose to a seasonally adjusted annual rate of 591,000, up 2.8% from a revised December figure of 575,000.  The numbers carry a margin of error of about 11%, so the monthly gain is murky.
Compared to a year ago, however, starts are up by 21% with a margin of error of 12%.  So year-over-year, there is clearly more activity.
Pulling the camera back, the housing industry is clearly struggling to get back to business, compared to previous cycles in which the level of activity made a clear "V' bottom.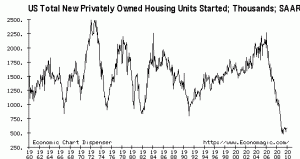 It will be interesting to see how the data weather the scheduled expiration of the $8,000 homebuyer tax credit.  Contracts must be signed by April 30 and deals must close by June 30, and some of the rebound in starts is believed to have resulted from buyers and builders getting projects underway in time to meet the deadline.  Seems mad for just $8k, but could be true.
These are national numbers and are not necessarily indicative of the real-estate markets in Miami and Coral Gables.  Yet real estate in Miami and Coral Gables followed the national data up in the boom and down in the bust, so give the data some consideration.

Both comments and pings are currently closed.
Thomas K. Landry Call Tom: 305-448-8728 tklandry@landryrealty.com
Categories
Archived Articles