Recent Posts
Recent Comments
Archives
Categories
Meta
The house at 2711 San Domingo Street in Coral Gables is a window onto the state of the mid-range market for real estate in Coral Gables.
The property is a mixed bag, with a small house (3 BR, 2BA, 1860 sf), but a larger lot than most others on the street (12,800 sf).  A big refreshing pool is a plus, but is exposed to the St. Theresa (Little Flower) church school and parking lot.  The neighborhood is one of the more desireable in Coral Gables, just around the bend from the Biltmore Hotel.
The property was on and off the market for a while, but finally sold last month.  When I spoke with the owner (during one of its unlisted spells), he wanted well north of $700,000 — and that was already a reduction.  But he was feeling the strain of paying both local and French property taxes (he was a French citizen and had to pay property tax to France — on property located in the U.S.!).
Evidently, the patience of buyers wore down this particular seller, because the property just sold for $525,000.
Don't feel sorry for the seller, though.  The $525k sale price represents a handsome return of about 8.5% since the previous sale for $219,000 in 1993.  That's a high rate of appreciation for residential real estate, even for a desirable neighborhood near the Biltmore Hotel in Coral Gables.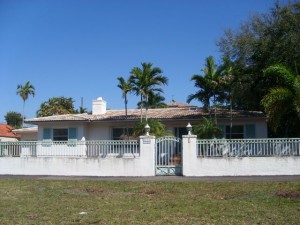 Both comments and pings are currently closed.
Thomas K. Landry Call Tom: 305-448-8728 tklandry@landryrealty.com
Categories
Archived Articles