Recent Posts
Recent Comments
Archives
Categories
Meta
Last month in The REF, a renewed tailspin in new home sales was noted.
The latest figures from the Census Bureau at the Commerce Department ain't pretty.  Sales dropped to a record-low seasonally adjusted annual rate of 309,000 in January — way below December's 342,000, and well under the previous low of 329,000 in January 2009.  Recordkeeping began in 1963.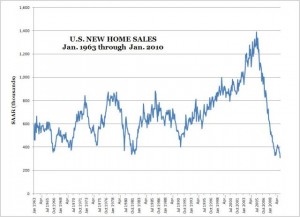 Both comments and pings are currently closed.
Thomas K. Landry Call Tom: 305-448-8728 tklandry@landryrealty.com
Categories
Archived Articles