Recent Posts
Recent Comments
Archives
Categories
Meta
Previous posts have emphasized the relationship between home prices and incomes.  While some fortunate folks don't need to work for a living, most do.  Property values are in significant part a function of what people earn (and of their willingness and ability to borrow against the next 30 years of those earnings to buy this particular asset).  So when considering the condition of the real estate market in Miami and Coral Gables, it helps to understand the area's wage profile.
Here's the picture painted by the Bureau of Labor Statistics in a September 2009 analysis of data from 2008.  (The time lag is of little consequence, as these numbers don't move far in a single year or two.)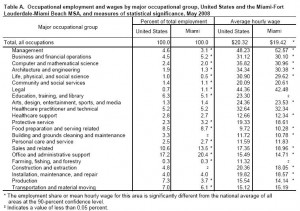 The data are for the Miami metropolitan statistical area, not just Miami or Coral Gables.  But many of the other data, like median home prices, are for the same area.

Both comments and pings are currently closed.
Thomas K. Landry Call Tom: 305-448-8728 tklandry@landryrealty.com
Categories
Archived Articles