Recent Posts
Recent Comments
Archives
Categories
Meta
When the Miami and Coral Gables real estate markets were in mania mode, condo buyers would sell (assign) their purchase contracts for hefty profits.  Condo units might be flipped numerous times before a building was even constructed.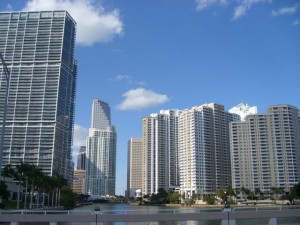 So what should you make of today's Miami Herald article reporting that bulk buyers of condo units have been flipping deals within weeks, even minutes, for hefty profits?
First, don't take it literally.  Nobody buys condos in bulk and sells to a new buyer within minutes, unless it's all prearranged.  More likely, a first bulk buyer enters a purchase contract that is not assignable, and while waiting for the deal to close, finds the new buyer and lines up the two deals to close on the same day.
Second, if you're an individual or a family looking to buy a place for yourself, none of this really matters to you.  The bulk market is not the same as the owner-occupied market.  It's the difference between wholesale and retail.  If one wholesaler gets such a good deal that another wholesaler is willing to pay a premium, that doesn't necessarily affect prices at the store.
Just because there's activity in bulk condo transactions doesn't change the fundamentals that should inform your decision about buying real estate in Miami or Coral Gables.  If you care about whether a purchase makes financial sense, the price you pay should bear a reasonable relationship to incomes, rents and historical values.

Both comments and pings are currently closed.
Thomas K. Landry Call Tom: 305-448-8728 tklandry@landryrealty.com
Categories
Archived Articles