Recent Posts
Recent Comments
Archives
Categories
Meta
Housing starts remain in a slowly rising pattern of recovery.  The Census Bureau estimated 575,000 starts at a seasonally adjusted annual rate, down 5.9% from the 611,000 now in the books for January, and roughly flat compared to February 2009.
January's number was revised up from an initially reported 591,000.
The margin of error on these data is about +/-10%, but the trend is consistent with a slow, grinding recovery.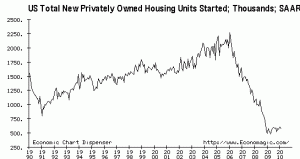 The real-estate market in Miami and Coral Gables has generally followed the pattern of the national data over the past decade, only to greater extremes.

Both comments and pings are currently closed.
Thomas K. Landry Call Tom: 305-448-8728 tklandry@landryrealty.com
Categories
Archived Articles