Recent Posts
Recent Comments
Archives
Categories
Meta
Miami ranks as the most troubled real estate market in the United States, says Forbes.  The honor was bestowed on the Miami metropolitan area for having, by a wide margin, the highest percentage of mortgages delinquent 90 days or more.  The number for Miami is — hold onto your hats — 28.8%.
Try to wrap your mind around that.  Think about what it means for someone to be 90 days delinquent.  That's not just late on a single monthly payment.  That's nonpayment for three months in a row, strongly suggesting that the borrower has no ability or intent to pay again.
This is misery.  Personal financial ruin.  Borrowers have themselves to blame, but financial institutions and real estate brokerages are equally responsible.  It was irresponsible for anyone to buy, lend money on, or advise the purchase of property at prices equal to six times the buyer's gross income, at ownership costs twice the rental costs, and in drastic deviation from historical price trends.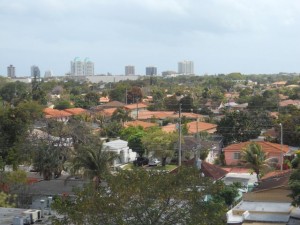 The greed and incompetence are staggering.  Next time someone preens about being a "top producer," think what their sales "producing" did to the personal financial condition of real people.  What does it mean for someone to buy a house for $1.1 million on an income of $200,000, only to find their home sweet home worth $700,000?  What does it mean to take a $400,000 loss when your income is $200,000?  How much, and for how long, would you have to save to make up for that kind of loss?  And for what?  So some bailed-out mortgage investor can keep taking six-figure summer vacations in the Hamptons?
From Forbes:
In greater Miami, including Fort Lauderdale and West Pam Beach, one-quarter [actually, 28.8%] of mortgages are 90 days past due or worse.  In Miami proper, one-fifth of mortgages are in foreclosure or converted to REO.  Worst in the country by far.
The next-worst metro is Las Vegas, at 21.7%.  Florida fares poorly as a whole, with only one metro area under 10% in the 90-day delinquency measure.
The Forbes study is based on data from First American CoreLogic.

Both comments and pings are currently closed.
Thomas K. Landry Call Tom: 305-448-8728 tklandry@landryrealty.com
Categories
Archived Articles