Recent Posts
Recent Comments
Archives
Categories
Meta
Sales of new homes edged down to a seasonally adjusted annual rate of 308,000 in February, basically stuck at the record low of 309,000 originally reported for January.
Consolation?  The January figure was revised to a slightly less-horrible 315,000.  And February might have been depressed more than usual by winter storms.  That could lead to a rebound in March.  Maybe February will prove to be the bottom for this particular data series.
The unadjusted monthly number rose from 22,000 new home sales in January to 24,000 new home sales in February.  Again, this could be the bottom for new home sales.  Look at the seasonality: Sales always rise into the summer and fall into the winter.  But in a boom, there are higher highs and higher lows, and in a bust, there are lower highs and lower lows.  Notice how this winter's low is not much below the previous winter's low.  (As always, do not confuse sales and prices — sales can pick up even as prices continue falling.)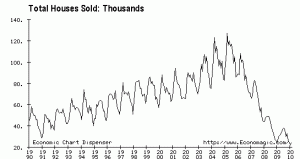 The median price of new homes sold rose to $220,500 in February from $207,900 in January.  The January figure was nearly the lowest for the whole down-cycle (only March 2009, at $205,100, was lower), even though one might have expected the median to rise after the $8,000 tax credit's originally scheduled expiration in November.
The long-term chart below suggests that we've worked off the bubble and are back to the trendline.  But beware.  These are national data.  Your local community may be in better or worse condition.  Here in Miami and Coral Gables, prices have fallen, but remain well above the long-term trendline.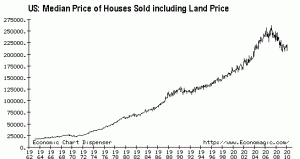 Here it is in logarithmic form, which smooths out the long-term destruction of the dollar by inflation, courtesy of the Federal Reserve.  (Disregard the log-scale numbers on the vertical axis — they don't represent dollars amounts.)
All data are from the Census Bureau at the U.S. Department of Commerce.

Both comments and pings are currently closed.
Thomas K. Landry Call Tom: 305-448-8728 tklandry@landryrealty.com
Categories
Archived Articles