Recent Posts
Recent Comments
Archives
Categories
Meta
Same story as last month as far as the Case-Shiller Home Price Index for Miami is concerned.  The index for the three-month period ending in January registered 148.32, slightly lower than the 148.66 for the period ending in December.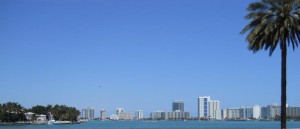 For anyone interested in the New York metro area, that too posted a modest decline, from 171.91 to 171.27.  S&P says New York and Washington have held up best over the whole cycle, each still 70% higher than they were in January 2000.  That's entirely believable, as other data show New York remains dangerously overpriced.  Anecdotally, I'm familiar with a home that sold at the top of the market in a New York suburb in 2005, and it's back on the market now — for about the same price.    Hmm, New York and DC . . . bankers and politicians . . . best real estate markets.  Naaah, I'm sure it's just a coincidence.

Both comments and pings are currently closed.
Thomas K. Landry Call Tom: 305-448-8728 tklandry@landryrealty.com
Categories
Archived Articles