Recent Posts
Recent Comments
Archives
Categories
Meta
Consider the following real estate theorem:
The cost of owning real estate is about 10% of the purchase price annually (principal + interest + taxes + insurance + maintenance)
Historically, people have been willing to pay a bit more to own real estate than to rent it — say, 1.2x
If 0.1 x purchase price = 1.2 x annual rent, then the ratio of purchase price to annual rent is normally about 12 to 1.
And indeed, before the real estate bubble, homes in Miami and Coral Gables normally listed for sale at about 12 times annual rent, maybe 14 times rent in some cases.  But during the bubble, the cost of owning property in Miami and Coral Gables routinely was double the cost of renting — prices were 20 times annual rent.
How about now?  The table below shows properties advertised both for sale and for rent in recent newspaper listings.  Not very scientific, but enough to get the lay of the land.  (During the bubble, simply consulting back issues of the Miami Herald from the '80s and '90s would have warned you that real estate prices in Miami and Coral Gables had become an absurdity.)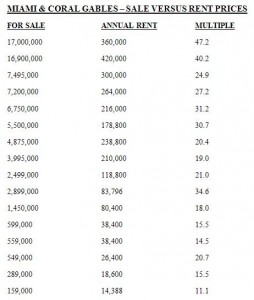 The table suggests that real estate prices in Miami and Coral Gables are back to normal only at the low end (but even there, beware the possibility of a downside overshoot).  For the wealthy, either money is no object or real estate prices in the luxury segment of the Miami and Coral Gables real estate markets have a long way to fall.  (The truth is probably somewhere in between.)
The greatest risk arguably lies in the mid-range — from about $500,000 to $2.5 million — where buyers are more likely to be working professionals than wealthy plutocrats.  The difference between 15 times rent and 12 times rent is a potential 20% decline.  The difference between 18 times rent and 12 times rent is a potential 33% decline.  Of course, incomes and rents could rise, working off the overvaluation without price declines.  But lately, incomes and rents have been as likely to fall as to rise.  Prices in this segment are still running from history.
History has a way of catching up.

Both comments and pings are currently closed.
Thomas K. Landry Call Tom: 305-448-8728 tklandry@landryrealty.com
Categories
Archived Articles