Recent Posts
Recent Comments
Archives
Categories
Meta
At first blush, $1.6 million might seem like a substantial enough sum for a 4,000-sf home in Coral Gables.  But 715 Sevilla Avenue, which recently sold for that price, is not just so much square footage.  It is new, high-end luxury construction.  And based on preconstruction promotional presentations, the properties in the development were supposed to bring closer to $3 million than $2 million, let alone $1.6 million.  It's a good subject for a cloudy background:
The back story on this property is one of those fabulous, intriguing windows onto the shadowy yet colorful history of Coral Gables.  715 Sevilla is among of a number of homes planned for a developer's fantasy: the last two entire blocks of virgin, privately owned land in north Coral Gables.  The developer, Riviera Sevilla LLC, is a successor to McBride Family Properties LLC, which traces its ownership to wealthy businessman Arthur B. McBride.
In the 20th centruy, McBride made a fortune in various businesses including newspapers, taxicab service, pro football (he was the first owner of the Cleveland Browns), and yes, Coral Gables real estate.  McBride apparently had a few unsavory connections, but the ritzy Biltmore Hotel has no trouble mentioning its lavish Al Capone Suite (a.k.a. Everglades Suite), so all is surely viewed with nostalgia now.
For many years, the McBride family held onto these two blocks of prime residential real estate in Coral Gables, before finally committing them to development.  Nonetheless, according to the developer, the family aimed to do justice to these choice properties by building to only the finest standards.
The first development, dubbed Casas Sevillanas, includes the recently sold 715 Sevilla, and occupies the land bordered by Almeria Avenue, Biltmore Court, Sevilla Avenue and Cardena Street.  You can see 715 Sevilla outlined in red on the map below.  The new luxury homes replace a stand of old pine trees that towered over a field of grass.  You wondered how it had lasted.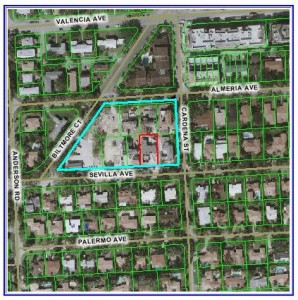 The other development, dubbed Casas Andaluzas, rests on the land bordered by Malaga Avenue, Columbus Boulevard, and the sweeping curve of Anastasia Avenue in front of the Biltmore Hotel.  Again, even a casual observer had to wonder how such a choice parcel of Coral Gables real estate remained undeveloped for so long.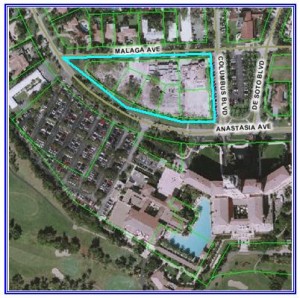 Both comments and pings are currently closed.
Thomas K. Landry Call Tom: 305-448-8728 tklandry@landryrealty.com
Categories
Archived Articles