Recent Posts
Recent Comments
Archives
Categories
Meta
Closed sales data are key to understanding current conditions in the real estate market.  Although broad indices like the FHFA House Price Index or the S&P Case-Shiller Home Price Index break down the numbers by metro areas, including Miami, real estate values can be highly localized.
The table below reports closed sales of single-family houses in zip code 33134, which is mainly within Coral Gables.  Data are from tax records, and thus include transactions not appearing on the MLS.
Because The Real Estate Fountain focuses on mid-range to luxury properties, the table excludes sales of small homes on small lots, like the many bungalows found in north Coral Gables.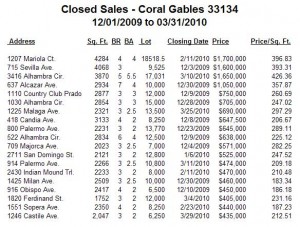 Although this is a first-quarter review, closed sales from December 2009 are included.  The originally scheduled November 30 expiration of the $8,000 homebuyer tax credit (since extended to April 30 for contracts, June 30 for closings) makes December 1 a more interesting place to start the real estate sales "quarter."
That said, home prices in Coral Gables, and particularly in the mid-range to luxury properties covered in this table, are high enough that the credit should not have affected buyer behavior much.

Both comments and pings are currently closed.
Thomas K. Landry Call Tom: 305-448-8728 tklandry@landryrealty.com
Categories
Archived Articles