Recent Posts
Recent Comments
Archives
Categories
Meta
Those of us who have been negative on real estate values based our outlook in part on the enormous height that housing starts and homebuilder stocks scaled during the boom.  If real estate buyers in Miami and Coral Gables paid attention to such data, they could have sidestepped the brutal beating — even bankruptcy — that inevitably resulted from buying a depreciating asset with borrowed money.
But honest analysis demands that we acknowledge when housing starts and homebuilding stocks have bottomed.
Housing starts and homebuilding stocks appear to have bottomed.
Here are starts and stocks (HGX, an index of housing stocks) from 2008 to present: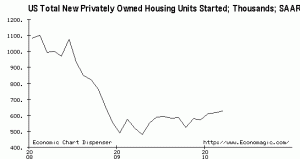 Here's a longer view of housing starts (1990 to Mar. 2010):
And a really long view (1959 to March 2010):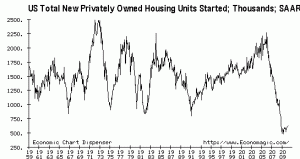 Does this mean you should rush out to buy whatever home you can lay your hands on in Miami or Coral Gables?  No.  When bubble towns go bust, they can lag the national data both in turning down and in heading back up.  (More on this in an upcoming post.)  Starts and stocks thus serve as leading indicators.  Note that national housing starts and homebuilder stocks both peaked in 2005-06.  Real estate prices in Miami and Coral Gables did not peak until 2007.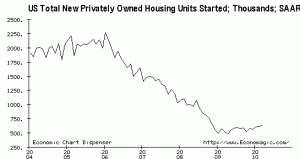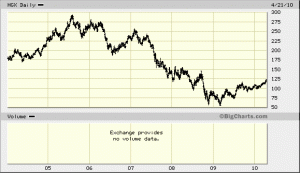 Real estate prices could easily fall for another year or two in Miami and Coral Gables.  The overpricing was too extreme for the local market to clear as fast as the national market.  Fundamentals — incomes, rents, historical price trends and the supply of homes on the market —  suggest that it is too soon to expect a sustainable rise in prices.  At least until wage and rent inflation rear their ugly heads.
The good news is that we are probably near enough to the bottom for real estate prices in Miami and Coral Gables that if you're thinking of buying a house or condo here, you should be devoting a lot of time to shopping for a home and learning about the many neighborhoods and types of properties from which to choose.  And if you find the perfect home at an advantageous price, you can make your move without too much risk of loss.
Of course, to play defense and fatten your wallet, it's always best to work with the broker who'll give you half his commission.

Both comments and pings are currently closed.
Thomas K. Landry Call Tom: 305-448-8728 tklandry@landryrealty.com
Categories
Archived Articles