Recent Posts
Recent Comments
Archives
Categories
Meta
Was the recession that began in 2007 just another typical downturn?  Or is it something more?
Consider the number of people employed.  In every recession since the Great Depression, the number employed has fallen, but in a pattern of higher highs and higher lows.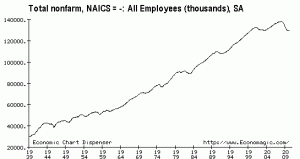 This time, for the first time since the Depression, the low is not a higher low, but roughly as low as in the prior recession.
To put it mildly, this is not normal.  Be careful out there.

Both comments and pings are currently closed.
Thomas K. Landry Call Tom: 305-448-8728 tklandry@landryrealty.com
Categories
Archived Articles