Recent Posts
Recent Comments
Archives
Categories
Meta
New home sales in the U.S. posted a huge gain in March, to a seasonally adjusted 411,000.
Here's a chart for the period from 1990 through March 2010, without seasonal adjustments:
Last month's observation holds:  Because new home sales did not make a lower low this past winter on a non-seasonally adjusted basis, they appear to have reached the bottom.
The risk to that idea, of course, is that the government has distorted the market with the $8,000 homebuyer tax credit.  The credit is available if you sign a contract by the end of this month (April 2010) and close by the end of June.  The new home sales data are based on contracts signed, not transactions closed (unlike existing home sales data, which are based on closings).  Therefore, these data are showing us in "real time" the effect of the upcoming tax credit expiration.
Some reports also noted that the supply of new homes for sale has hit a low not seen since the 1970s, nearly 40 years ago.  True enough: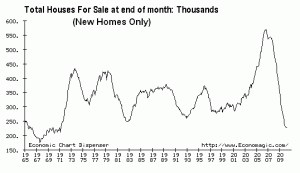 But it is a testament to how weak sales remain that even with that itty-bitty number of new homes for sale, the months' supply (number of homes for sale divided by number sold in the past month) is still a bit higher than normal.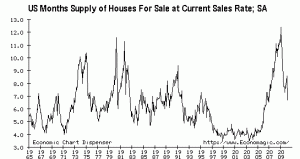 As would be expected if the tax credit were a factor, the median price fell a bit from month to month (from $221,600 to $214,000) despite the big gain in sales.  Getting $8,000 from your rich (or profligate) Uncle Sam makes a bigger difference to buyers of cheaper homes, so more of those homes show up in the sales data.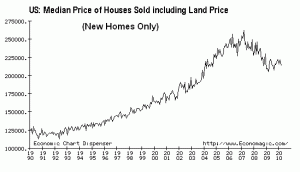 We've basically worked off the bubble in new home prices nationwide, and those prices may now be starting to rise again in line with the historical trend.
Do not, however, assume the same is true for all real estate prices, or for your local market.  The prices of existing homes here in Miami and Coral Gables, for example, remain elevated compared to the historical trendline.  More on that in an update coming soon.

Both comments and pings are currently closed.
Thomas K. Landry Call Tom: 305-448-8728 tklandry@landryrealty.com
Categories
Archived Articles