Recent Posts
Recent Comments
Archives
Categories
Meta
The Case-Shiller Home Price Index posted another small decline in Miami real estate for the three-month period ending February 2010.  This marks the fifth straight month of small monthly declines.  A similar pattern is playing out in the New York metro area, which posted its sixth straight small decline.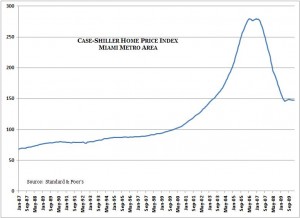 The real estate bubble in Miami and Coral Gables pushed the Case-Shiller index from a level of about 100 in January 2000 to nearly 280 in January 2007.  Perhaps needless to say, incomes did not rise 180% over that period, and as the bubble inevitably burst, the Case-Shiller index collapsed to about 145.
Since hitting a low of about 146 in May 2009, the Case-Shiller index for Miami has moved essentially sideways.  Despite this stabilization, questions remain about real estate values in Miami and Coral Gables:
Incomes have risen about 25% since 2000, not 45%.
Insurance costs have rocketed higher, driving up the cost of owning property everywhere in South Florida.
Public budgets continue to be balanced on the backs of new buyers who subsidize the capped property assessments and taxes of pre-existing owners.
Responsible buyers, and banks that have returned to old-fashioned lending standards, are again taking these ownership costs into account.  Sideways may be the new Up in Miami and Coral Gables real estate.
The Case-Shiller index is maintained by Standard & Poor's, and tracks repeat sales of the same homes, thus avoiding the skew that can result from changes in the mix of expensive versus inexpensive homes sold.

Both comments and pings are currently closed.
Thomas K. Landry Call Tom: 305-448-8728 tklandry@landryrealty.com
Categories
Archived Articles