Recent Posts
Recent Comments
Archives
Categories
Meta
Archive for April, 2010
Bloomberg reports that Manhattan real estate sales were up, and prices were down, in the first quarter of 2010 compared to the first quarter of 2009.  Sales doubled.  Median prices fell in all categories:
Studio prices fell 14%
1-bedroom pricess fell 12%
2-bedroom prices fell 25%
3-bedroom prices fell 36%
4-bedroom prices fell 28%
Luxury units, defined as the top 10% by price, fell 31%
The picture is brighter when comparing to the immediately preceding quarter (4Q09).  On that basis, the median price of all units rose 7.2%.  But the fourth quarter is almost always the weakest, so that may not mean much.
What's the relevance to the Miami and Coral Gables real estate markets?  First, bubbles that were blown together have burst together, and it's worth keeping an eye on the forest as well as the trees.  Second, Miami shares, in its own small way, the New York City economy's dependence on financial and real estate services.  Third, hey, they don't call it the sixth borough for nothin'.
Here's an ornamental wall fountain on the facade of the Gables Grand condo in downtown Coral Gables.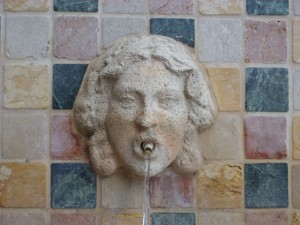 The Gables Grand, 353 Aragon Avenue, occupies the entire block between LeJeune and Salzedo and between Aragon and Giralda.  The fountain is at the corner of Aragon and Salzedo.
Thomas K. Landry Call Tom: 305-448-8728 tklandry@landryrealty.com
Categories
Archived Articles