Recent Posts
Recent Comments
Archives
Categories
Meta
The Biltmore Hotel's management has been widely reported to be seeking renegotiation of their lease arrangement with the City of Coral Gables, which owns the hotel building and land.  The managers claim that business is way down because of the economy.
Indeed, something must be going on if the highly rated Palme d'Or restaurant and the classic Biltmore Bar are closed on a Sunday evening in early May.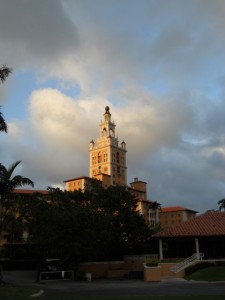 The odd thing is that the hotel made it through the 2001-03 recession, despite the intense fear of travel that crimped tourism after the 9/11 attacks.  Back then, the hotel slashed prices and offered hefty incentives for guests.  The Simple Pleasures package combined low, tax-inclusive room rates and in-hotel spending credits, for an effective rate of something like $100 per night.
The deals now are not quite as good, but from May 1 to September 30, the Simple Pleasures package is priced at about $149 per night, not including tax and after accounting for the in-hotel spending credit.
The role of the Biltmore in sustaining Coral Gables real estate cannot be underestimated.  The hotel not only adds value to homes and properties in the surrounding neighborhood, but introduces a steady stream of potential future residents to the city.  City founder George Merrick knew as much when he sent Biltmore guests on real estate tours.  After all, Coral Gables is not an obviously desirable destination, and has always had to justify why people coming to Miami should situate themselves 8 miles inland from the ocean and world-famous beaches.

Both comments and pings are currently closed.
Thomas K. Landry Call Tom: 305-448-8728 tklandry@landryrealty.com
Categories
Archived Articles