Recent Posts
Recent Comments
Archives
Categories
Meta
The table below reports closed sales of select single-family homes in the portion of zip code 33156 east of Ludlam Road (SW 67 Ave.), including neighborhoods in Pinecrest and Coral Gables.  The 33156 zip code extends from Kendall Drive (SW 88 St.) south to Howard Drive (SW 136 St.), and thus includes the waterfront gated communities of Gables Estates, Journey's End, Hammock Oaks and Gables by the Sea, as well as the gated lakefront community Snapper Creek Lakes, and the soon-to-be-gated lakefront community Hammock Lakes.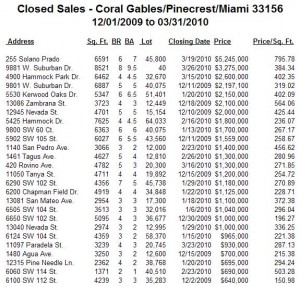 Recently closed sales are the principal guide to current property values in a local real estate market.  Data are from tax records, and thus include transactions not appearing on the MLS.
Because The Real Estate Fountain focuses on mid-range to luxury properties, the table focuses on the more desirable homes and locations in the covered area.
Although this is a first-quarter review, closed sales from December 2009 are included.  The originally scheduled November 30 expiration of the $8,000 homebuyer tax credit makes December 1 a more interesting time to start the real estate sales "quarter."  The $8,000 credit should not have made much difference to buyers of mid-range to luxury real estate in Pinecrest and Coral Gables, but no market with human participants is fully rational.

Both comments and pings are currently closed.
Thomas K. Landry Call Tom: 305-448-8728 tklandry@landryrealty.com
Categories
Archived Articles