Recent Posts
Recent Comments
Archives
Categories
Meta
What a difference a month makes.
The yield on the 10-year Treasury note spiked higher at the beginning of April, raising the prospect of higher fixed mortgage rates, which are generally correlated with the yield on the 10-year.  Now, with fears of Greek and other sovereign debt problems rocking Europe, the flight to safety in U.S. Treasury securities has driven the 10-year yield right back down.  Fixed mortgage rates should decline significantly as well.
The 4% level is proving to be very strong resistance.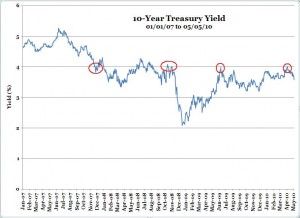 Both comments and pings are currently closed.
Thomas K. Landry Call Tom: 305-448-8728 tklandry@landryrealty.com
Categories
Archived Articles