Recent Posts
Recent Comments
Archives
Categories
Meta
The latest operation at the city-owned Country Club of Coral Gables property officially opened this weekend with a ribbon cutting at the new Liberty Caffe on North Greenway Drive at Granada Boulevard.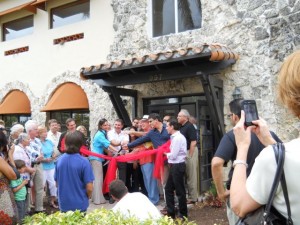 The cafe will serve pizza, gelato and light, Italian-oriented fare from 8 a.m. to 8 p.m., which one passerby considered an unwelcome threat to neighborhood fixture Burger Bob's, the greasy spoon in the Granada Golf Course clubhouse right across the street.  It's a fair point.  Unless the new cafe draws an all-new clientele, Burger Bob's could be a big loser.  (The other big losers are members of the old country club operation, but that's a story for another day.)
Additional club operations will open in several phases.  The pool and gym, which will require purchase of a membership, should be open in the next few weeks.  The restaurant, which will be open to the public, is supposed to open in the next couple of months.  And the event facilities are expected to begin operation in about six months.
Area residents have expressed concern about the effect that the cafe will have on the character of the neighborhood.  The cafe itself is not terribly conspicuous and hardly seems a threat to property values.  But nearby real estate could be adversely affected if the cafe becomes a popular place to grab a quick cup of cappucino to go.  Nobody wants a constant stream of cars zipping up the street, parking and pulling away two minutes later.

Both comments and pings are currently closed.
Thomas K. Landry Call Tom: 305-448-8728 tklandry@landryrealty.com
Categories
Archived Articles