Recent Posts
Recent Comments
Archives
Categories
Meta
Is there any reason to think that people around the world are about to flock to Miami and Coral Gables to buy real estate?  Not if Google Trends is any indication.
Google Trends shows how popular a search term is — i.e., how many times people are searching for that term on Google.  Here's the result for the search term "miami real estate":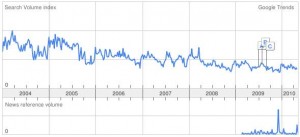 The boom has busted.  The dream is over.  And as with most dreams, we almost surely will not experience it again as long as we live.

Both comments and pings are currently closed.
Thomas K. Landry Call Tom: 305-448-8728 tklandry@landryrealty.com
Categories
Archived Articles