Recent Posts
Recent Comments
Archives
Categories
Meta
Homebuilders in the U.S. continue to become more optimistic.  The Housing Market Index maintained by the National Association of Homebuilders rose to a level of 22 in May from a reading of 19 in April, quite a good improvement in one month.  The index is a gauge of homebuilder sentiment.  The current level is low by historical standards but has been steadily improving.
And those homebuilders continue to increase the pace at which they are breaking ground on new homes.  Housing starts nationwide rose to a seasonally adjusted annual rate (SAAR) of 672,000 in April, up smartly from a revised 635,000 in March.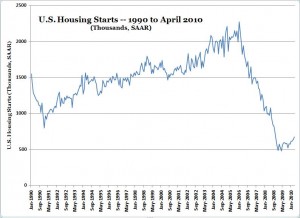 Evidence of a bottom in housing nationwide continues to mount.  But be careful about forcing the nationwide picture into your local frame of reference.  Here in Miami and Coral Gables, real estate sales have recovered but prices continue to face headwinds from fundamentals (incomes, rents, employment and historical trendline values).

Both comments and pings are currently closed.
Thomas K. Landry Call Tom: 305-448-8728 tklandry@landryrealty.com
Categories
Archived Articles