Recent Posts
Recent Comments
Archives
Categories
Meta
The Federal Housing Finance Agency (FHFA) recently reported its house price index for the first quarter of 2010.  Nationally, the index shows price declines re-accelerating after moderating in 2009.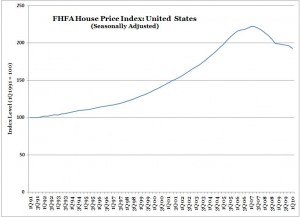 In Miami, the index rose a little from the fourth quarter of 2009, but has generally been in a sideways pattern that began abruptly in the second quarter of 2009, breaking the preceding freefall.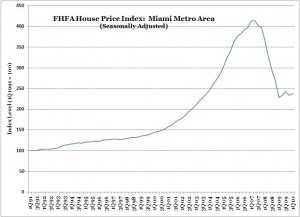 The sudden sideways pattern is rather unnatural, and may reflect the onslaught of government intervention that became the fashion in spring 2009:  $8,000 homebuyer tax credits, suspension of mark-to-market accounting rules, Federal Reserve purchases of securitized mortgages and 10-year Treasury bills,  foreclosure prevention programs — the list goes on and on.
But if price declines nationwide are re-accelerating as the government handouts and assistance programs wane, will real estate in Miami and Coral Gables really manage to avoid the same fate?  The world remains tormented by deflationary debt destruction, and the government may be out of bullets.  Potential buyers might be reminded of the old Clint Eastwood line:  "You've got to ask yourself a question.  Do I feel lucky?"
Indeed, FHFA maintains two price indices: one based on home purchases only, and another based on home purchases and refinance appraisals.  The latter price index posted a notable decline for Miami real estate values in the recent FHFA data release.
Buying real estate in Miami or Coral Gables remains a risky proposition.  Make sure you work with a broker who will act in your best interests, explain the pros and cons, and preferably rebate you a big chunk of change.  Hmmm, wonder who that might be . . . .

Both comments and pings are currently closed.
Thomas K. Landry Call Tom: 305-448-8728 tklandry@landryrealty.com
Categories
Archived Articles