Recent Posts
Recent Comments
Archives
Categories
Meta
In April, the city commission in Coral Gables approved the city's purchase of an empty lot at 4650 Alhambra Circle, to be used as a park.  The lot is two blocks north of Blue Road, on the west side of Alhambra.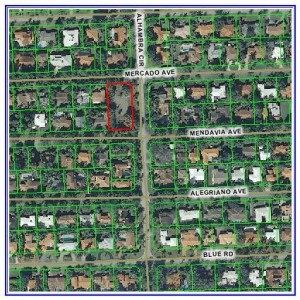 Three cheers for parks.
Here's the problem.  The city paid $1,000,000 for the lot.  The seller paid $950,000 in 2005, at the top of the real estate market.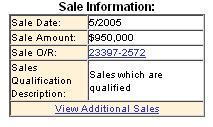 Does anybody think property values have risen since 2005?
Not the county property appraiser, who puts the value at $635,760.
The city, however, found its own appraisers to justify the million-dollar price tag.
Appraisal #1 was based on "comparable" sales on Valencia Avenue (prime real estate near the Biltmore Hotel and Venetian Pool), and on Tigertail Avenue, far away in north Coconut Grove:

Appraisal #2 was based on a bunch of sales from 2008 and 2009: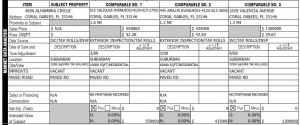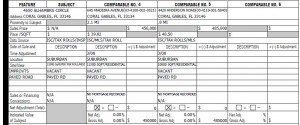 Appraisal #3 was based on sales including the one on Valencia, one in Coconut Grove and one on School House Road in the estate area known as Ponce/Davis.  Oh, and a fourth one that wasn't a sale but a listing — a property that sold in 2003 for $650,000 but which the appraiser estimated at about $1.1 million after discounting from the asking price of $1.395 million.  (That property apparently never sold.)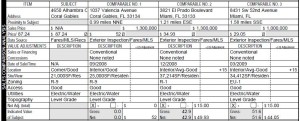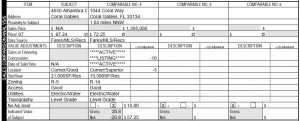 Seems it was more important to find vacant land, no matter how remote in time and space, than to consider comparables like the property at 4607 Alhambra Circle — a mirror image of 4650 occupying the same size and shape lot right across the street from 4650 Alhambra.  The property at 4607 sold in 2008 for $1.855 million — with a 5351-sf house on it.  And that was in 2008; the county appraiser says it's now worth $1,325,535.
But of course, none of this really matters, because Coral Gables wasn't spending its own money anyway.  This bailout was courtesy of county taxpayers.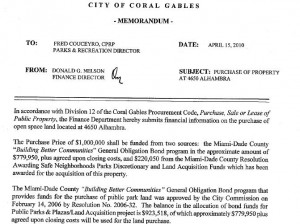 As everybody knows, Miami-Dade County has plenty of money to throw around for things like parks in Coral Gables.
The biggest shame is that the would-be developer's dreams were never realized.  After obtaining approval to split the lot in two, the project never materialized.
Thank heavens the good taxpayers of Miami-Dade County were kind enough to make this poor developer more or less whole.  We can't have people failing at the things they try to do.  Then nobody would ever try to do anything.
Right?

Both comments and pings are currently closed.
Snowball said at July 25th, 2010 at 8:12 pm

Thanks for posting. I'm sickened by this needless waste of taxpayer resources.
Thomas K. Landry Call Tom: 305-448-8728 tklandry@landryrealty.com
Categories
Archived Articles