Recent Posts
Recent Comments
Archives
Categories
Meta
The S&P Case-Shiller Home Price Index, which tracks repeat sales of the same homes, continues to drift lower for the Miami metro area.  The chart below is based on the non-seasonally-adjusted data set.  Ordinarily, seasonally adjusted numbers might be more desirable, but these are not ordinary times.  Show me the money.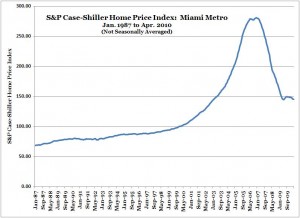 The weakness in the Case-Shiller Index contrasts with relative strength in median price data.  The divergence is probably a result of the shifting mix of homes sold.  We're moving from correction in the low-priced market segment toward correction in the higher-priced market segment.  Liquidation of bad subprime loans has passed its peak and is receding.  Liquidation of bad Alt-A, Option ARM and prime loans is just getting underway.  (See prior post showing reset schedule.)
As a result, the mix of homes sold may be shifting from the low end toward the high end, giving a boost to the median price (i.e., the price at which the same number of houses sold for more as for less).  Indices that track repeat sales of the same homes, however, show continued weakness as the prices of higher-end and luxury homes fall.
Anecdotally, there have been some very significant sales and price reductions suggesting that property values are indeed falling at the higher end in Miami and Coral Gables.

Both comments and pings are currently closed.
Thomas K. Landry Call Tom: 305-448-8728 tklandry@landryrealty.com
Categories
Archived Articles