Recent Posts
Recent Comments
Archives
Categories
Meta
This month's reading for the Housing Market Index maintained by the National Association of Home Builders and Wells Fargo: a tantalizingly weak 14.
Last month's post on homebuilder sentiment reserved judgment on whether the big drop in sentiment from 22 in May to 17 in June suggested another big leg down for housing.  That decline was big, but could have been a temporary, knee-jerk reaction to the end of the $8,000 government handout program.  When times got really bad in fall 2008 to spring 2009, the index collapsed from 14 to 9 and bounced around in the single digits.
The HMI has now broken below 15, but only barely.  Meanwhile, homebuilder stocks have rebounded with the broader stock market.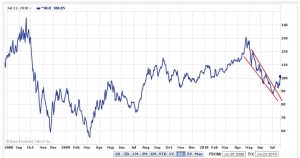 Source:  Yahoo! Finance
If real estate sales stabilize and the stock market holds up, the sentiment index should avoid another meltdown.
If you're in the market for a home in Miami or Coral Gables, the HMI may not be directly relevant.  So far, real estate sales in Miami and Coral Gables have bucked the national trend and held up well despite the expiration of the $8,000 tax credit.  But consider it a canary in the coal mine.  If it breaks down further from here, the housing sector and the broader economy might be undergoing another leg down.  And Miami and Coral Gables are not likely to gain solid footing as long as the rest of the nation is on its heels.
Update 07/26/10:
Today's new home sales report for the month of June shows a rebound from May's record-low plunge.  The number is still horrible — about the second-lowest on record — but at the higher end of economists' estimates.  The last three months:
April  422,000
May  267,000
June 330,000
Note : Data for new home sales actually measure contract signings, not closings.

Both comments and pings are currently closed.
Thomas K. Landry Call Tom: 305-448-8728 tklandry@landryrealty.com
Categories
Archived Articles