Recent Posts
Recent Comments
Archives
Categories
Meta
As noted previously (see Mortgage Rates May Drop Again, May 6, 2010), the rate on a 30-year fixed mortgage is closely related to the yield on the 10-year U.S. Treasury note.  When the yield on the 10-year rises, mortgage rates go up, and vice versa.
Lately, it's been all about the vice versa.  The 10-year yield has collapsed on renewed fears of economic weakness, deflation, and impotence trumping stimulus.  The yield is now back to where it was in spring 2009 when the stock market bottomed amid widespread despair.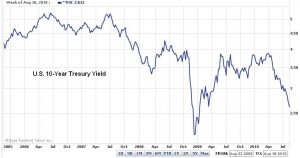 Source: Yahoo! Finance
That's good news if you want a mortgage to buy a home in Miami or Coral Gables, because the rate on a 30-year conventional mortgage is hitting its own new lows in the 4.5% range.  Of course, the question is whether home prices in Miami and Coral Gables will fall further if the bond market is right about the severity of renewed economic weakness.  It doesn't make sense to buy a depreciating asset with borrowed money, no matter how cheap the financing.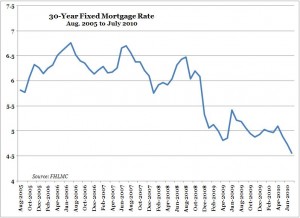 Both comments and pings are currently closed.
Thomas K. Landry Call Tom: 305-448-8728 tklandry@landryrealty.com
Categories
Archived Articles