Recent Posts
Recent Comments
Archives
Categories
Meta
The federal government's $8,000 homebuyer handout created a wave of sales.  But for every wave, there's a trough.  What goes up must come down, eh?
[youtube]http://www.youtube.com/watch?v=kK62tfoCmuQ[/youtube]
The National Association of Realtors reported that sales of existing homes hit a new low for this downturn.  The evaporation of sales activity is a predictable result of the $8,000 government handout for homebuyers that is in the process of expiring.  Contracts were to be signed by April 30 and closings were to occur by June 30.  The latter deadline was extended to September 30, but there probably aren't many handout-generated deals left in the pipeline at this point.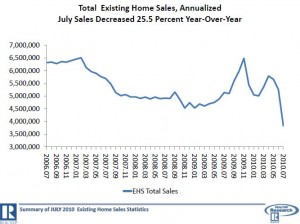 New-home sales appear set to plumb new depths as well.  These sales are registered at the time of contract signings, not closings, so they tend to peak in the spring or early summer so people can close and move during the summer.  With July's numbers just a smidge above the absolute low for the downturn, new lows will likely be plumbed over the coming months.  Could see a number in the teens before it's over.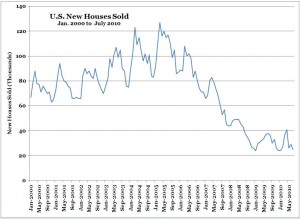 Here's the full data series going back to the beginning of record-keeping in 1963.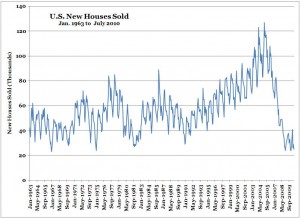 Real estate in Miami and Coral Gables has generally followed the national pattern, and indeed the Florida Association of Realtors reports that there were 593 single-family home sales in the Miami metro area in July, down from a handout-goosed 727 in May.  But 593 is still more than double the measly 244 house sales at the cycle low for Miami in February 2009.  So the Miami and Coral Gables markets may be holding up a bit better than the nation as a whole during this post-handout trough.

Both comments and pings are currently closed.
Thomas K. Landry Call Tom: 305-448-8728 tklandry@landryrealty.com
Categories
Archived Articles