Recent Posts
Recent Comments
Archives
Categories
Meta
At the top of the market, you were a putz if you didn't own a home — and preferably more than one.  Renters were losers.
Well, the worm certainly turned, eh?
In Miami and Coral Gables, renting a home shot up in popularity as it dawned on people that it's better to pay half the cost of ownership and skip the massive capital losses.  Why buy a depreciating asset with borrowed money, especially when you can rent it for half the cost?  Certainly the advice you got here was to rent, not buy.
Alas, home ownership is a relentless lure, and the stabilization in home prices in Miami and Coral Gables appears to have turned the tide from real estate rentals back toward real estate sales.  This is true across the board for single-family homes: in Coral Gables as well as Miami-Dade County, and for larger homes (4 bedrooms or more) as well as the entire market.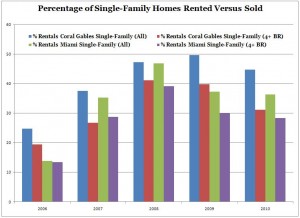 The number of rentals appears to have peaked in 2009, as the pace in 2010 is running behind the pace of last year's high.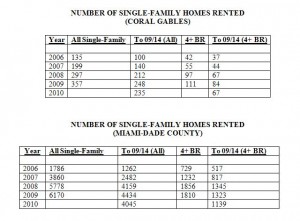 In Coral Gables, rentals went from barely more than 10% of real estate transactions to nearly 50% of real estate transactions.  Considering that real estate agents make about 90% less on rentals than sales, you can assume a lot of people found themselves with essentially no income.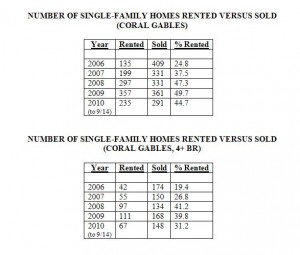 Same story in Miami as a whole: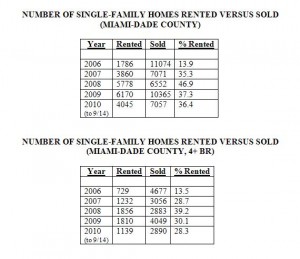 Data are from MLS and therefore do not account for sales outside MLS.

Both comments and pings are currently closed.
Thomas K. Landry Call Tom: 305-448-8728 tklandry@landryrealty.com
Categories
Archived Articles