Recent Posts
Recent Comments
Archives
Categories
Meta
The previous post reported the current outlook of hedge fund manager Kyle Bass, who made a fortune off the recent collapse of the financial-realty complex.  Essentially, Bass sees hyperinflation in America's future, like what happened in Zimbabwe.  At the same time, Bass sees median real estate prices staying flat at best for several more years, and high-end real estate prices heading lower.
Anyone see a contradiction in that?  Would real estate sputter along if hyperinflation took hold?  Hardly.  Real estate is a classic inflation hedge.  Property prices will skyrocket if hyperinflation develops, just like in Zimbabwe, where property prices increased at an annual rate of 5,000% during that country's hyperinflation.
About the only thing confirming the hyperinflation thesis is the price of gold and other precious metals.  But that could well be a fad that will end in tears just like every other bubble that sucked in money from the weakest among us before popping.  The gold-bug advertising littering all media right now could signal that the end is near.
The last time gold shot to the moon (in 1979-80), inflation was already soaring into the double-digits, eventually exceeding 14% year over year.  Are we experiencing anything like that now?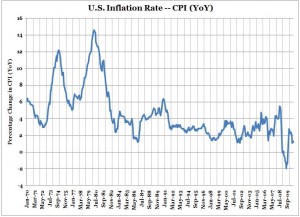 Likewise, the last time gold shot to the moon, wages were leaping ahead in a desperate struggle to keep pace with inflation.  Now?  We've just finished the latest gap down in a 30-year, secular downtrend of wage and salary disinflation (i.e., lower and lower inflation).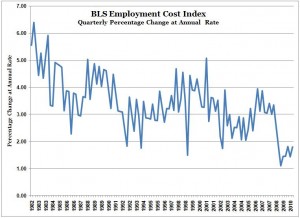 So far, the inflation crowd has been waiting for Godot.
Maybe someday the Fed will spur some inflation.  But there's no clear evidence of that yet.  And until then, we're sticking to our story.  Real estate in Miami and Coral Gables generally remains overpriced relative to the fundamentals: incomes, rents, historical values, and (in the upper price ranges) months' supply.  Buyers have time on their side.
In other words, we agree with the Kyle Bass who sees real estate prices flat to down for several more years before a new phase of rising prices, not the Kyle Bass who sees hyperinflation.

Both comments and pings are currently closed.
Thomas K. Landry Call Tom: 305-448-8728 tklandry@landryrealty.com
Categories
Archived Articles