Recent Posts
Recent Comments
Archives
Categories
Meta
Several gauges of the homebuilding industry released this week indicate slow progress at best — which is a whole lot better than some of the alternatives.
Housing starts rose a very tepid 0.3% last month, following a strong 10%+ jump the month before.  But that's o.k.; the numbers are still tracing out a mild upward trajectory from the low in early 2009.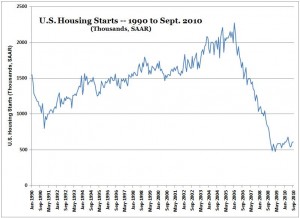 The National Association of Homebuilders released its Housing Market Index, a measure of sentiment in the industry.  The index rebounded to 16 from a dangerously low 13.  Prior posts here commented on the 14 to 15 area as a critical support level.  The cycle low was in the single digits.  It seems the support may have held.  Time will tell.
Homebuilder stocks are well off their lows in early 2009, but have lost the lustre they had during the government-handout days.  The HGX index has broken its uptrend and is clearly in a sideways trading range.
Source: moneycentral.msn.com
What does all this have to do with real estate in Miami and Coral Gables?  Do local home values really correlate with these nationwide measures of the housing industry?  No guarantees, but property sales and values in Miami and Coral Gables rose in tandem with these national measures, and rolled over and crashed with them too.  Maybe the local market will decouple from the national experience, but there's no clear evidence of that yet.

Both comments and pings are currently closed.
Thomas K. Landry Call Tom: 305-448-8728 tklandry@landryrealty.com
Categories
Archived Articles