Recent Posts
Recent Comments
Archives
Categories
Meta
The months' supply of homes for sale is one the real estate market's vital signs.  A previous post explained this indicator and noted that Coral Gables had been in relatively stable condition, with about a 14-month supply of homes for sale.  That was quite a bit higher than the 6-8 months in a normal market, but way down from the 40 to 50 months' supply seen during the height of the credit crisis.
The number deteriorated in September to 23.7.  That's very high.  Stability has given way to instability.
Another previous post noted that the luxury real estate market in Coral Gables was stuck in the muck, with a 30-month supply of homes over $1.5 million, well over the 10-12 months' worth that is normal at the high end.
And now?  Based on September sales, there is an 82.5-month supply of homes for sale in the real estate market in Coral Gables.
Granted, September is not high season for closings, but this is dreadful.  Sellers of high-end homes in Coral Gables need to wake from their dreams and lower their prices.
Meanwhile, at the low end, the months' supply figures are normal, even robust.  Segmenting the market by price range shows just how healthy the low end is, and just how sick the high end is.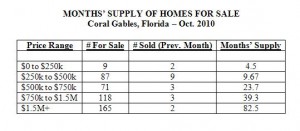 A picture is worth a thousand words: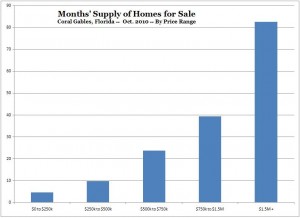 Both comments and pings are currently closed.
Thomas K. Landry Call Tom: 305-448-8728 tklandry@landryrealty.com
Categories
Archived Articles