Recent Posts
Recent Comments
Archives
Categories
Meta
Most of the price ranges in the Coral Gables single-family real estate market are exhibiting the most normal conditions since the downturn began.  The exceptions are the very low end, where anything priced under $250,000 sells almost immediately, and the very high end, where sellers refuse to lower their prices and buyers refuse to pay those prices.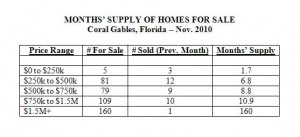 There is now an almost comical 160-month supply of homes priced $1.5 million and up.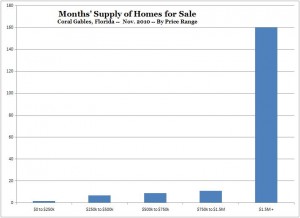 Aside from the inaction at the high end, the Coral Gables property market improved from the more broadly weak October picture.
Data are based on comparison of current active listings to October closed sales.

Both comments and pings are currently closed.
Thomas K. Landry Call Tom: 305-448-8728 tklandry@landryrealty.com
Categories
Archived Articles