Recent Posts
Recent Comments
Archives
Categories
Meta
The Pending Home Sales Index maintained by the National Association of Realtors posted a decent gain for October 2010.  This continues a steady trend of improvement since the predictable collapse of sales immediately after the $8,000 government handout program expired.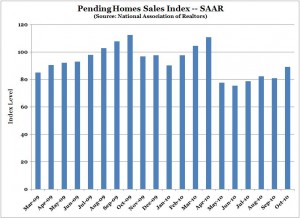 Sales should do fine as long as rates remain low and in the absence of significant further job losses.
But remember, sales and prices are two different things.  And local market dislocations can produce countertrend results.  In particular, sales of luxury homes in Miami and Coral Gables remain AWOL, creating significant risk of further price declines.

Both comments and pings are currently closed.
Thomas K. Landry Call Tom: 305-448-8728 tklandry@landryrealty.com
Categories
Archived Articles