Recent Posts
Recent Comments
Archives
Categories
Meta
The Coral Gables Country Club at 997 Alhambra Circle has re-opened for event bookings.  The facility's new cafe opened about six months ago, and the pool and gym re-opened soon after.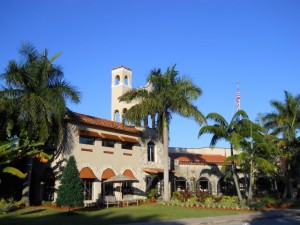 The facility, owned by the City of Coral Gables, was substantially renovated about ten years ago using the proceeds of hundreds of "lifetime" (really more like 20-year) memberships.  Those lifetime members each lost their $10,000 to $15,000 when the club closed after the relationship between the old manager and the city soured.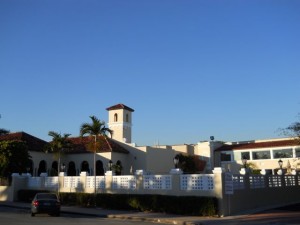 The new club's business model appears to be very different.  As presented to the city, the operation was to resemble the old club, with a restaurant, a gym, a pool and event spaces.  The main difference was supposed to be that the restaurant would be open to the public (it was only for members before).  As it turns out, there is no restaurant.  Only the small cafe is truly public.  (The gym and pool still require memberships.)
The look and feel of the interior has been changed from traditional to modern.  It's a rather shocking design, considering that the City of Coral Gables is renowned for its strict regulation of renovations to properties with historic architecture.  Owners of historic homes in Coral Gables face tough scrutiny when they want to make alterations.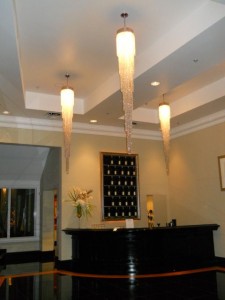 The Coral Gables Country Club is one of the city's oldest and most historically significant buildings.  It served as a sales center for city founder George Merrick when he was touting the promise of paradise.  The idea that Coral Gables would allow this to be done to its own property is bizarre.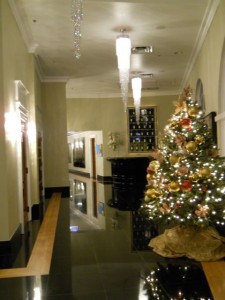 Nothing like a faux-wood stripe in black marble to signify elegance, eh?
The interior design is only superficial, of course, and can be restored to something more appropriate someday.  In the meantime, design students have somewhere to go to study what "hideous" and "inappropriate" mean.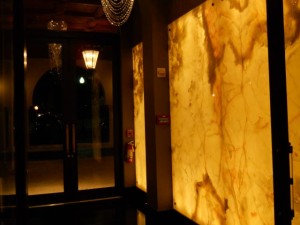 Both comments and pings are currently closed.
Candace said at January 9th, 2011 at 8:22 pm

What a horrible write-up on a great renovation! This goes to show that design can certainly be subjective.

The interior was obviously not designed to look as it did in the era in which it was built, and was clearly not mandated to. The exterior and interior architectural elements, however, remained as they were. While it does not meet the interior aesthetics of the era in which it was built, in the current market, the most intriguing and popular of sites are those historic sites which keep their exterior historic integrity, while incorporating a more modern interior. It is blatantly clear that you have loose knowledge of historic preservation, current design trends or what designs sell. Considering the Coral Gables Country Club is an event site, the purpose of the renovation was not to turn it into a museum, but to attract people to this location for use for their events, which means a more modern interior, while keeping some of the classic elements, whilst using a more neutral palette. While there are regulations to historic buildings, they stem from keeping the historic integrity of the architecture, mainly the exterior of the building, and do not force the interior of most facilities to match that of the original.

I am a licensed commercial Interior Designer myself, and have chosen the Coral Gables Country Club for my own wedding. I would not have chosen this location prior to the recent renovation.

Tom Landry said at January 9th, 2011 at 9:33 pm

I guess designers are like economists: You can always find two to disagree. I've spoken to a designer who sees it my way. But so what? As you say, it's subjective. We'll have to agree to disagree.

I recognize the difference between interior and exterior elements in historic preservation. But this is city property; there's no question that the city had authority to control what was done. And on principle, the interior-exterior distinction fades for public buildings. When the historic preservation movement rose from the rubble of the grand old Penn Station in New York City, people rallied to save Grand Central Terminal, which was next in developers' sights. Surely it's not just the exterior of that building that we all regard as significant. (Not that the Country Club interior was comparably special.)

Coincidentally, the Miami Herald had an article today on the newest Queen Elizabeth cruise ship, which is apparently done in the grand old style that you would consign to museums. Apparently, there is still a market for that vision of beauty. In Miami, I guess, not so much.

In any event, thanks for your contribution, and best wishes for a splendid wedding.
Thomas K. Landry Call Tom: 305-448-8728 tklandry@landryrealty.com
Categories
Archived Articles