Recent Posts
Recent Comments
Archives
Categories
Meta
The Standards and Poor's Case-Shiller Home Price Index for the Miami metro area (which includes Coral Gables) has declined for three straight months and hit a fresh new low for the real estate collapse.  For the three months ending October 2010, the index level has fallen below its previous low of May 2009.
From a short-term perspective, the new low looks fairly significant.
Source: Standard & Poor's
But in the big picture, the new low is just a wiggle.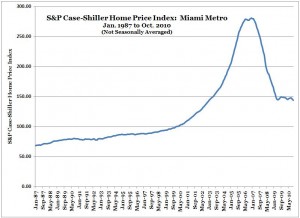 Source: Standard & Poor's
Time will tell whether this the start start of a new leg down for the market.

Both comments and pings are currently closed.
Thomas K. Landry Call Tom: 305-448-8728 tklandry@landryrealty.com
Categories
Archived Articles