Recent Posts
Recent Comments
Archives
Categories
Meta
The S&P Case-Shiller Home Price Index for the Miami metro area fell again for the three-month period ending November 2010.
Source: Standard & Poor's
Plenty of news stories have reported on the fact that the S&P Case-Shiller Index is hitting a new low in a number of cities, including Miami.  The Miami Herald noted that the index showed prices decreased for the fourth month in a row and were at "the lowest level since the real estate market crash began three years ago."
But the recent new lows are barely below the prior low of May 2009, and the latest month's data from the S&P Case-Shiller Index is actually more like a flattening of prices than any sort of significant new low.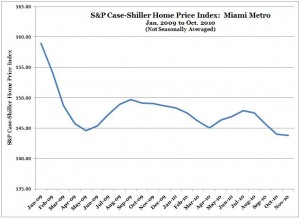 Source: Standard & Poor's
I've been as bearish as they come on Miami real estate prices, but folks, the crash already happened.  Perhaps another crash from these levels is possible, but it's a whole lot less likely than it was from the levels that prevailed several years ago.  Not that we couldn't grind lower another 10% or so.  But we're just not in crash mode any more.  And not everyone would choose to forego the right home over a fear of losing 10%.  It's not like several years ago, when you could rightly fear losing 50%.

Both comments and pings are currently closed.
Thomas K. Landry Call Tom: 305-448-8728 tklandry@landryrealty.com
Categories
Archived Articles