Recent Posts
Recent Comments
Archives
Categories
Meta
Giant pink snails descended on Miami Beach during Art Basel.  Hooligans apparently made life uncomfortable for the gastropods, so they migrated west to the more subdued environs of Coral Gables.
Here's one outside the new Coral Gables Museum: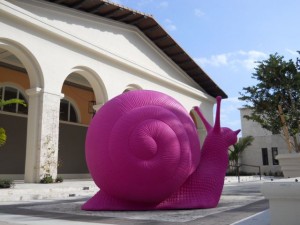 The sculptures are made of recycled plastic, and are the work of the Italian collaborative Cracking Art Group.
Check out the snails' original home in Milano.

Both comments and pings are currently closed.
mariluz Saldarriaga said at March 4th, 2011 at 11:56 am

I hate, hate, hate (cannot say it enough) these hideous snail sculptures. With all the great artists here in Miami let alone the United States why are we supporting outside "crap" like these artists from Italy!

I don't care if they are made from recycled plastic or not, the color is vulgar and the sculpture looks "cheap". Hopefully very little or no tax payers money is being used to sponsor such cheezy art.

Should we not be supporting local artists!!

I can see why vandals were damaging the snails in the beach….they wanted this crap out of their city….Just because something is Italian does not make it any good! Please send them back home soon!!

Tom Landry said at March 4th, 2011 at 12:31 pm

Thanks for your input. I am sure that the snails cannot depart soon enough for you, but perhaps it will offer some solace that they will be gone in two weeks or so.

Cheers, Tom Landry

Roseanne Brown said at April 17th, 2011 at 6:40 am

My daughter took a photo of the snails on a semi and I really think they are cool! Wish I had one in my yard.And I am 1/2 Italian but just read they are from Italy. That is why I have weird taste,maybe.Wonder how much they cost?
Thomas K. Landry Call Tom: 305-448-8728 tklandry@landryrealty.com
Categories
Archived Articles