Recent Posts
Recent Comments
Archives
Categories
Meta
The months' supply of homes for sale has risen in the Coral Gables real estate market.  This is not because a lot of new listings have come on the market.  In fact, the number of homes for sale has continued to recede.  The problem is that demand has been slack.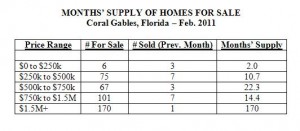 The key months' supply figure has risen in every price range since last check in November 2010.  Most significant, the supply of Coral Gables homes has risen sharply across the middle of the pricing spectrum:
from 6.8 months to 10.7 months in the $250k to $500k range;
from 8.8 months to 22.3 months in the $500k to $750k range; and
from 10.9 months to 14.4 months in the $750k to $1.5M range.
Demand remains strong for homes under $250k, of which there are few in Coral Gables.  The luxury segment above $1.5 million remains mired in an epic stalemate, as sellers would apparently rather die of old age in their overpriced properties than reduce prices to the point at which the market would clear.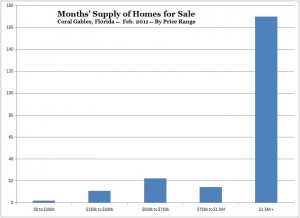 Data are from the MLS and are based on a comparison of current active listings to January closed sales, for single-family homes only.

Both comments and pings are currently closed.
Thomas K. Landry Call Tom: 305-448-8728 tklandry@landryrealty.com
Categories
Archived Articles