Recent Posts
Recent Comments
Archives
Categories
Meta
Having drifted lower since expiration of the $8,000 government handout program last summer, the S&P Case-Shiller Home Price Index for the Miami metro area broke down a little more decisively for the three months ending January 2011.
The data are not very encouraging whether viewed in the big picture . . .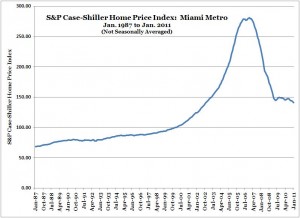 Source:  Standard & Poor's
or close up . . .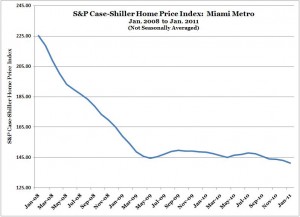 Source:  Standard & Poor's
Nonetheless, to keep things in perspective, the recent acceleration in the rate of decline pales by comparison with the declines of 2008-09.  We're not in crash mode anymore.

Both comments and pings are currently closed.
Thomas K. Landry Call Tom: 305-448-8728 tklandry@landryrealty.com
Categories
Archived Articles